How to Choose the Best LED Ball Light for Your Yard?

May 27,2022


CXL
If you're looking for decorative lights that can light up your entire garden, the best LED garden ball lights are available in a variety of shapes, sizes, and colors. RGB color-changing LED solar ball light, colorful and waterproof, IP67 rating, meanwhile this spherical solar light is made of polyethylene, this lightweight material is also shock and weather resistant, available in 9 RGB LED colors for indoor and Outdoor spaces add unique decor.


Wondering how many LED garden ball lights you need to decorate?
The number of LED ball lights needed to properly illuminate the entire backyard obviously depends on the size of the backyard and how bright you want it to be. Solar garden lights can be used for many purposes. On the one hand, they add a wonderful aesthetic to your backyard oasis, bringing light and color to your home's favorite features, even at night. They also have important safety features. Because you can throw a pool bikini bar party in the dark. What color garden lights do you need for your backyard? If you want a variety of shades, be sure to choose color-changing garden lights. You can choose the colors of the lights with a tap of the remote, and you can change them at any time. Another option is a pack of lights in different colors. Or, if you want to keep it simple, you can always use white garden lights.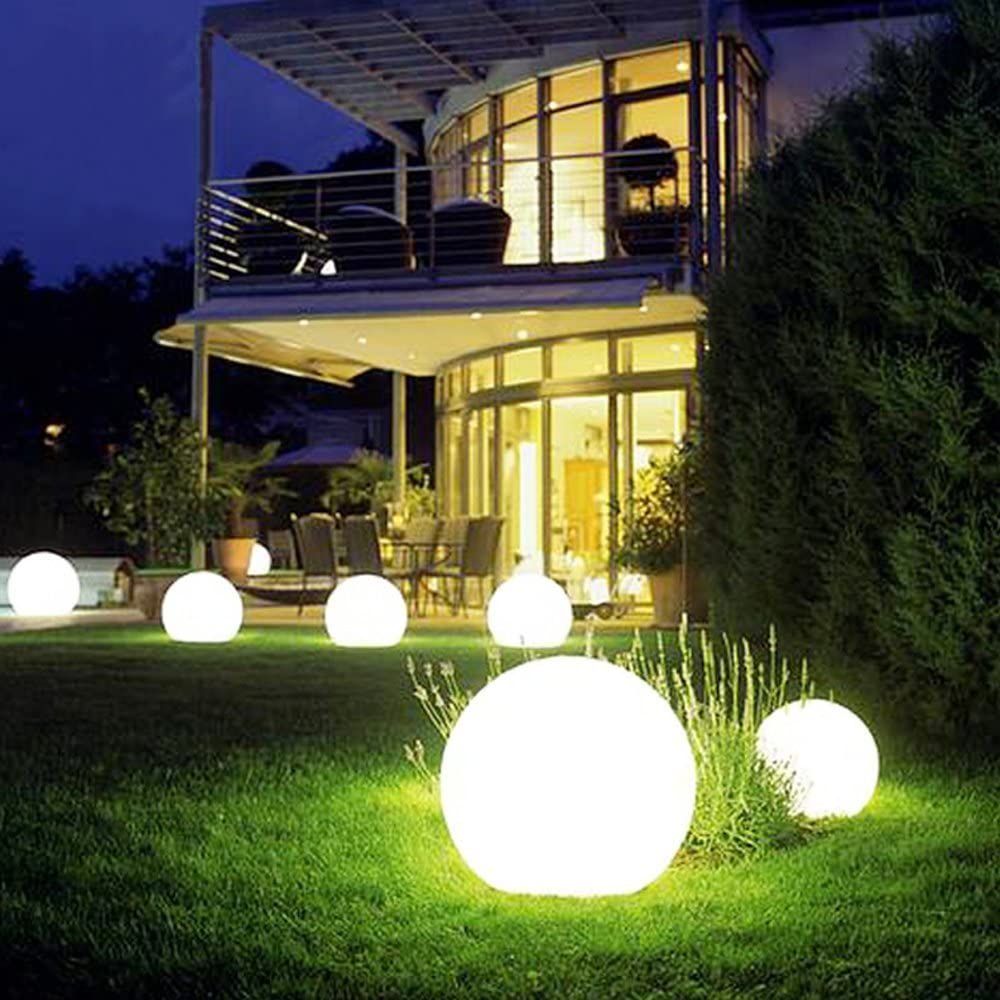 If you are not sure how to choose the best ball light for your garden. As a professional garden decorative lamp manufacturer, we can provide you with a variety of options. And if you want to dress up your entire backyard. Recommend the best solar ball light for your backyard, it is made of high-density sturdy polyethylene, wireless and rechargeable LED ball light is waterproof, weatherproof, and shockproof, it is suitable for outdoor use to illuminate the garden, backyard, patios, and even swimming pools. Lightweight and portable, it can be moved from outdoors to indoors to illuminate shelves and tables. 16 color-changing LED lights to bring a romantic atmosphere to parties, parties, and other events. Equipped with IR/RF/APP remote control, you can easily control brightness and color mode to create the perfect atmosphere. its smart sensor solar chip Store solar energy when the sun rises. With the highest solar energy conversion rate, and fast battery charging, the light will automatically turn on when it is dark, and the light will automatically turn on when night falls. 1800mAh large lithium battery,Guaranteed to work up to 12+ hours of long standby time, guaranteed to be durable in any weather conditions.